Model Jeremy Meeks has been deported from Britain after being denied entry by UK Border Police. The Californian – who became an internet sensation when police shared his mugshot following his arrest - arrived in London yesterday ahead of a launch party for his Man About Town cover tomorrow night, which he will not now be able to attend.
"We were planning a launch event with his agency SUPA models and Man About Town but sadly Jeremy wasn't allowed into the country, even after having the correct documentation he was unfortunately sent back to the States," an email from his representatives detailed. The cover, which shows Meeks shirtless and tattooed, was shot by famed photographer Steven Klein – who spoke out in his defence today.
"We are proud of our work with Jeremy Meeks for Man About Town, which we feel helps the public see him in a new light, as the person he is today," Klein said on his Instagram, where followers including model Jordan Barrett also expressed their support. "Therefore we were dismayed to learn that Great Britain has expelled him – turning its back on a man who has already paid his debt to society for his past and who is now seeking to start his life anew with his family. For him to be so unfairly judged, without any real knowledge of who he has become or what he is hoping to achieve, is to deny each one of us the hope that a man or woman can rise above their past and be a better person – and a constructive member of society. This misjudgement of Jeremy Meeks is worse than ignorant; it deprives all people of their opportunity to change and better themselves, perpetuating what is worst socially while withholding from us the benefit that can flow from such change."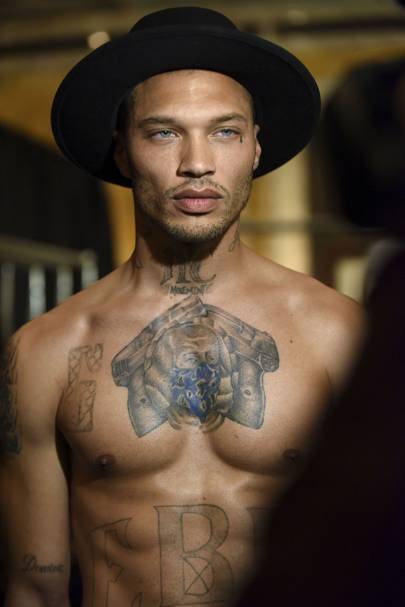 Meeks spent time behind bars in his early twenties for theft and forgery, but it was his arrest in 2014 on felony weapons charges that resulted in the Facebook post that changed his life. After the picture garnered more than 100,000 likes and earned him the nickname the "hot felon", Meeks was signed to White Cross Management on his release from prison. He made his catwalk debut for Philipp Plein at New York Fashion Week earlier this year and continues to build his profile as a model.
"I heard all my life, you're so handsome, you have the most beautiful eyes, and I heard it a hundred times a day. To where I would not even pay no mind to it. It didn't fix it then. I still had a father in prison doing life. I still had a heroin-addict mother and me and my brother and sisters struggling through life's tribulations," he told Man About Town, noting that he is now trying to refocus his life away from the crime of his past. "I'm a family man, I'm a father, I'm a husband, I'm an uncle, I'm a best friend, I'm a God-fearing man, a Christian."