Last night, Vogue celebrated Christmas with a little help from the Beckhams. At the Victoria Beckham global flagship store on Dover Street, Vogue fashion news editor Julia Hobbs held a captive audience as she and Beckham discussed party-season dressing, family traditions and just what one buys David Beckham for Christmas. Here are the takeaways to note.
On Christmas Day At Beckingham Palace…
I'd never wear a rainbow onesie. Never. I'd love to say that I'm dressed up - I don't want to shatter the illusion that I walk around like this at Beckingham Palace - because Christmas Day is such a great time for the kids and there's wrapping paper everywhere and absolute chaos in the house. And because I'm undoing boxes and trying to find batteries for Harper's toys I don't really have a lot of time to get ready. From my cover shoot, I got a Vogue dressing gown, and little Harper got one as well. I'll probably be wearing my Vogue dressing gown on Christmas day.
On Cooking For The Family…
Do you know, I can't. But I try. You know one of the kids said the other day, 'What? What is this?' One of the kids said, 'Mummy made that with so much love.' I was like, 'That's really sweet and kind because it was horrible.' So it's not my forte, but I try.
On Dressing For your In-Laws…
I think it's nice when you don't look like you've tried too hard but you're being respectful. I don't think you want to be casual but you want to be comfortable. There's nothing worse than feeling uncomfortable — that just reflects how you are and how you feel. You're nervous enough as it is.
On Celebrating New Year's Eve…
I love New Year's Eve. We always spend New Year's Eve with the children, and my kids know how to party. Last year, I mean goodness they stayed up so late, they really are party animals. It's a good time to get a little bit dressed up and let your hair down, have some fun and just go for it. This year, Brooklyn is coming home from New York, and I won't talk about it too much because I'll start crying. We haven't seen him for quite a while. So, he's coming home, and he is good fun. We like to have fun as a family. We spend so much time working and travelling that when we do have time to just be the six of us, we really do make the most of that.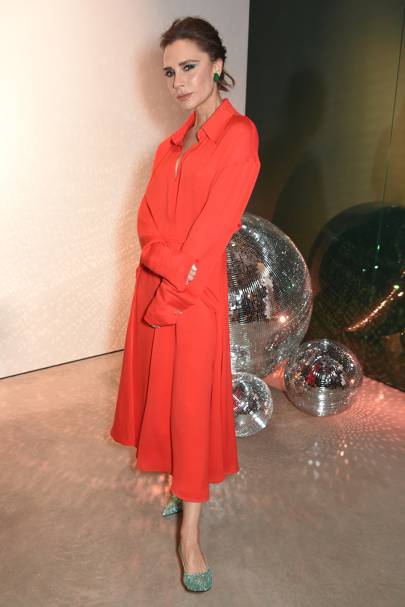 On New Year Resolutions…
I don't do anything silly like 'I'm never going to drink again' because that's not going to work. I know this might make people's eyes roll but I just want to continue to be the best person that I can and try hard to be the best mum that I can and really try to get that balance right between work and life. That is a really difficult thing when you're a working mum. I don't know if it's a New Year's resolution or just a little word I have with myself. I think the one thing that I probably should do is have a New Year's resolution that when it gets to six o'clock at night I'm going to turn my phone off. Or I'm going to put it on silent or put it in the other room and then I'll just pick it up again at eight o'clock the next morning because I am such a workaholic and I probably will say to myself, let's try to do that.
On 2018…
I have brought partners into my business because up until about three weeks ago, the business was owned by myself, my husband and our business partner Simon Fuller. What we have done is going to enable to me to do a lot of things that I have always really dreamed of doing and I can really put my foot on the gas: new categories, more shop space. Really expanding on the beauty category, for example. Bigger collections and also trying to change things up a little bit. I like to be quite entrepreneurial about the way that I run this brand and think outside of the box and come up with new innovative, creative ideas. That excites me. There's just so much I want to do. I always say it's great to dream big and I genuinely mean that. So, who knows what will happen? And it's my 10-year anniversary!
On Her Business Turning 10…
I can't believe that it's been 10 years in September. I mean it has gone so quickly and I really have accomplished a lot with my honestly incredible team. They have given me so much and a lot of my team has been with me since the very beginning and we really have built something very special together. So, we're excited to be celebrating that.
On The Fabulous Harper Shoe…

I called it the Harper slipper because when I came back from New York, on my last show, I pulled out these sparkly shoes. My daughter, who is 6 years old, and like most little girls and big girls — love a bit of sparkle. She couldn't believe the shoes. She was like "Mummy, I want to try them on!" She was running around the house, she's got down that running in heels thing, I'm very proud. She was over the moon, so I had to call it the Harper slipper because she did not take it off and she kept clicking her heels together saying, "There's no place like home." She's obsessed with the Wizard of Oz, which is actually where we got the idea to do this shoe. When I was in New York, it was autumn time and I was wearing a high-waisted slim jean, a vintage blouse and the Harper slipper, and I was just going to an art gallery. It felt really cool to have something that's really quite sparkly and dressed up with something that's dressed down. I'm really quite fun when I'm wearing these shoes.

On Her Christmas Capsule…

I wanted to do a Christmas capsule. About two months ago, I said to the team "You know I want some sparkle in the shop." What do you wear when you're going to a Christmas party? For me, I want to wear a great tuxedo pant whether it's slim or baggy, I want to wear a great blouse, I want to wear either a jacket or a sort of tuxedo coat. So, quite minimal but really really good shapes, really well made, good tailoring pieces that you're not just going to wear at Christmas but you're going to wear the rest of the year as well. They really are staple pieces that everyone should have in their wardrobe and then I'm going to jazz it up with a really jazzy shoe and bag.

On Getting Ready…

If I'm going out somewhere nice and I've got time, I think it's just fun to have your hair done, have your make-up done. But day-to-day, I don't have very long at all. It's about taking the kids to school, trying to get a quick workout in, sticking your hair up in a ponytail, getting ready in 15 minutes and I'm literally out the door. It depends what I'm doing. Quite simple, I actually think it's good when you have less time to get ready, it's better, less time to fuss.

On Her Estée Lauder Collection…

I love the skin-perfecting powder because it really does even out skin tones. You can put it on throughout the day and it doesn't get too thick and clumpy. I use the bronzer to contour. So, at the end of the day, when you're feeling a little bit washed out and tired, you can just dust the bronzer all over. The Victoria lip liner I'm obsessed with and I have them in all my handbags. The cheek cream is actually fantastic as well. You can do so much with it. You don't have to throw too much into your handbag with that one product. When Estée Lauder came to me about this collaboration, it really was about me creating what I want. Those must-have items that you think would be easy to find, but you search for and you can't. I spent so much time making sure it was exactly what I wanted, so I'm proud of the make-up. I enjoyed the whole process and I think also the packaging is beautiful. I love to empower women and make women feel like the best version of themselves, whether it's through fashion or the beauty side as well. It really does feel like a treat. I appreciate things that most people don't think about but it does make a difference. It's limited edition, so we don't have huge amounts to sell and I really wanted to keep it that way. I wanted people to feel special when they found that lipstick because it's not going to go on and on.

On Her Festive Soundtrack…

Spice Girls. Duh! Probably a mega mix of them all. No, really. I like old school R&B and soul. That's what I like. I'm a bit of a soul girl. But it depends, with the kids around, they have completely different ideas. Romeo is normally the one that puts the music on in the house. He's got really, really good taste. Really good taste. You know he'll put things on that obviously we know because it's from the Nineties or from the Eighties and he'll say, "Hey mummy have you heard of this song?" and I'll say "I remember it the first time around!" He's like, "Really? You've heard of Michael Jackson?" And then you're like "No, I've been living under a stone."