Alexander Wang has a habit of doing things his own way, and his latest business move is no different. On May 31, the designer will welcome 1,000 members of the public to his latest catwalk show at New York City's Rockefeller Center, alongside the 360 industry insiders invited.
"Part of the coup of winning this location is that the company has a really organised location for industry types to sit and see the show in a very controlled manner on the lower level," said a spokesperson for the brand, according to WWD. "Then, we invite essentially New York City to come to experience the show on the upper plaza. As an American brand that is rooted in New York, Rockefeller Center represented the energy and the epicentre of New York City."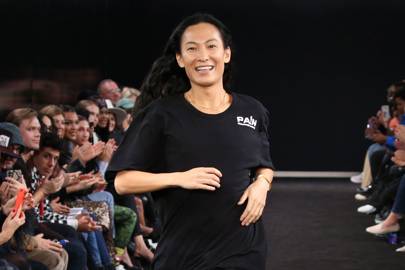 Wang will also incorporate well-loved elements of the Big Apple, from snacks to street food, in his show set-up, too. "We thought of this as a public moment as well, so that anyone who comes to see the show will also experience something beyond seeing it from the upper plaza," the spokesperson explained.
Last year, Wang announced the decision to adopt a new biannual schedule with collections presented in June and December, rather than in line with the traditional fashion calendar. This strategy will see his collections go to market twice a year, instead of four, with more frequent product drops throughout the season. No products will go on sale on May 31, but it's clear that the creative is continuing to place consumers at the heart of his industry-led efforts. Similarly, in June 2018, Virgil Abloh invited Parisian students to line the Palais-Royale gardens at his debut for the historic brand.