At the heart of the fashion-forward, normcore range are Eytys's signature chunky-soled shoes - from robust boots and sneakers to plimsolls. Each pair comes in a custom-designed box patterned with artwork by Stockholm-based painter Zoe Barcza. The partnership between the brands has "extracted the core of Eytys DNA", according to a statement by H&M, which for the clothes includes boxy silhouettes in faux patent leather jackets, graphic tees and stiff cotton trousers.
"With this collaboration, we hope to introduce the H&M customer to our design philosophy of robust and fuss-free design where function triumphs embellishment and styles spans genders," Max Schiller, Creative Director at Eytys, says of teaming up with the high-street giant. "The collection is all about proportions – creating a distinct unisex silhouette by playing around with loose silhouettes and chunky architectural footwear. It's the Eytys idea of a 'generic' look, one that is meant to elevate integrity, attitude and confidence."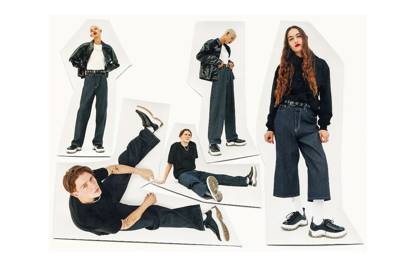 Of the collaboration, H&M's Ross Lydon and Ann-Sofie Johansson said: "It wasn't a deciding factor but more about feeling and leveraging our shared history and culture. We both share a pared-back design aesthetic and a no-fuss approach. Ultimately, the shoes and clothes created by Eytys have a versatility and a ubiquity that befits their wardrobe staple status, and their emphasis on detail, quality and price also aligns with what H&M values. It was a very natural and easy-going collaboration – the mutual respect for each other was apparent from the start."