Ilove seeing the reaction to Savage X Fenty in person, so having a pop-up shop is really exciting for me!" Rihanna tells Vogue exclusively of her decision to give her lingerie line a bricks-and-mortar presence in London. "I want women to feel great wearing lingerie. I want them to feel confident, sexy, flirty. But most of all, I want them to feel like themselves."
The popstar and entrepreneur has chosen Shoreditch Studios for the location of her Fenty outpost, which will run from June 13-17. The shop will stock pieces from her core collection, "On the Reg" and the three other lines, playfully titled "U Cute", "Damn" and "Black Widow" according to how Bad Gal you want to look and feel wearing the underwear. Many of the 90 pieces have already sold out due to high demand, but team Savage X is working hard to ensure healthy stock levels, so that London fans can purchase the femme-in-the-front, frisky-in-the-back bikini-cut knickers and marabou embellished jumpsuits aplenty during the five-day pop-up.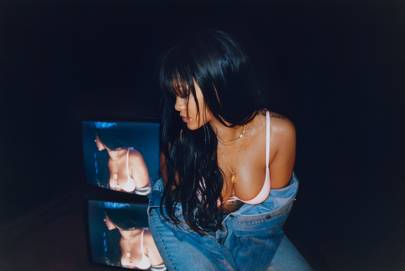 The inclusive sizing (bras are available from a 32A to 44DD, and lingerie, underwear and loungewear from XS to 3XL) that has been much praised in the media is also a priority for the store's launch.
"I approach everything with the same mentality," Rihanna told press upon the collection's May 2018 launch date. "It has to be authentic, it has to be from me, my perspective. I've wanted to do a lingerie line for a long time, but it was important to me that it be done right." Though details of the pop-up's interiors – and whether the Fenty founder will be serving customers herself – are being kept under wraps for now, there can be no doubt it will have Rihanna's stamp all over it.