"Pure magic," Alexa Chung muses backstage at the latest of her "travelling circus of presentations" at the Earth Studio at the foot of Tokyo Tower, Japan. It's how her father, who came up with the initial concept of the set – a diorama inspired by Charleston, the country retreat of the Bloomsbury group - described the photograph his designer-daughter sent via text. It's the best feedback she's ever been given.
Chung senior's influence was traceable in the "Virginia" collection modelled by 23 girls milling around the expansive, hand-painted set. Originally titled "Work of Art" and influenced by Georgia O'Keeffe, Alexa had to rethink her muse when Dior launched its O'Keeffe inspired cruise 2018 collection. It was her dad who reminded her how cool Vanessa Bell and her peers – the painter Duncan Grant and her sister Virginia Woolf, the collection's namesake – were. Accordingly, "Virginia" celebrates the leisurely uniform of the artistic set, chock full with silk pyjamas and paisley robes, heavy knit jumpers and embroidered smock dresses.
"The collection felt quintessentially English, so I wanted to put it into a very surreal context," she explains, of her decision to promote the collection, her fourth, in Japan. Surreal is how you could describe the fanfare Chung received when taking her bow in front of the Japanese press. Where the east Londoners that lurk near her De Beauvoir studio are too cool to ask for Insta snaps, in Japan she's a bona fide celebrity.

"Sometimes I have a weird floating thing when the attention gets too much," she says. "I feel like I'm watching an avatar version of me that people presume they know." How does she keep herself sane? "I don't think I do," she deadpans. "I think I'm mad. But I don't really know a life that's not like this, so to me it's not really that alien. It would be weirder if it was different."

She describes herself as feeling old; but her brand is still very young. Launched in May 2017, partly out of a mission to end her "freelance" lifestyle and go "in-house", she explains: "I felt like I had no autonomy over my next step. I was constantly paranoid about thinking of the next thing, and I could never enjoy the moment. Starting my own business was a way to assert some kind of control and stop floating around."

Her previous creative collaborations – Marks & Spencer, AG Jeans, Superga– taught her the design basics, but everything else has been based on instinct. The see-now-buy-now model, for example, was a decision to align the brand with Supreme and Palace, and to have the freedom of dropping products at any time. "I wanted there to be an immediacy, because, for me, that's where the future of fashion lies. We're going to need a few more phases before this happens across the board though."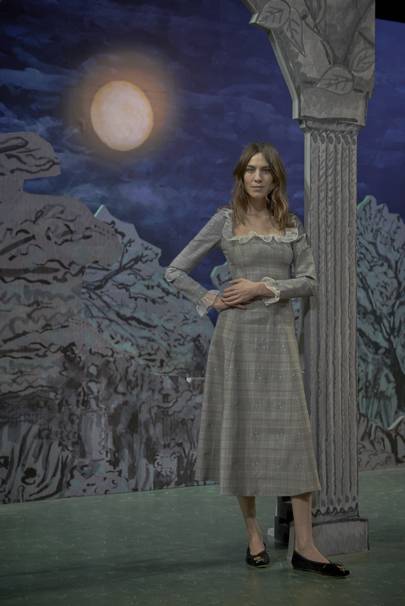 She doesn't lie about the challenges – "the shady bits of running a business are really shady" – but she's relaxed about giving her team leeway to get things wrong. "We're still taking risks because we don't want to become all 'Corporate Susan'. Obviously there are really tough days, but you have to find the glimmers of joy in getting jazzed about a new T-shirt shape."
What's the water cooler conversation like at Studio Chung? "I don't think we actually have a water cooler, we have a tap and mugs though," she says, before affirming: "We're more of a smoking area company." The Christmas party saw the team take a Hummer limo to a roast dinner in an Islington pub, make a pit stop at another pub in Angel, followed by The Ned and then The Dolphin for karaoke. "It was a rager," she laughs. "I'd never had an office party, because I've never had an office, so I was really happy. We went big and we didn't go home."
As the team grows (it numbers 25 and counting), so does her confidence. "In the beginning, there was a certain sense of trepidation, because I really wanted to communicate that it was my thing. The collections [Fantastic, Prom Gone Wrong and the inaugural offering] were retrospective and introspective because I was designing for the woman I was. Now, I'm designing for the woman I am, and the woman I would like to be."
"Suddenly my icons are not men from the 1960s but older women," she continues. "I think about badass females I'm curious about and would like to dress, like Tracee Ellis Ross, or Miuccia Prada, who has maintained her inner child, but is intellectual in a non-patronising way."
Though picturing the future is, "phew, unthinkable", she wants the brand to have an emotional resonance. "I hope someone has a great romance in one of our blouses, or they use our shirt to save someone's life in the sea when they nearly drowned," she adds. "I hope that each piece has a more exciting life outside of the paper bag it arrives in. I hope that it goes on to mean something to people in memento mori terms, because that's how I think about clothes. I form an attachment to them."
As I leave her preparing for a Q&A at her pop-up shop at Isetan, the Japanese department store titan, and musing what her own store might look like one day, there can be no doubt that Alexa has hit her stride. Fashion with "meaning and depth" is her aim, and she's out to get it with her travelling circus, one spectacular jaunt around the planet at a time.