There are few contemporary designers as versed in both image making and mixing as Raf Simons: a man who, at his eponymous label, has previously created entire collections collaged from the work of one iconic photographer (Robert Mapplethorpe, spring/summer 2017) or the world of one film director (David Lynch autumn/winter 2016). His ability to take the visual tropes of pop culture and rework them into a new narrative is perhaps unparalleled within fashion – and never has such a skill been more apparent than in his newest collection for Calvin Klein.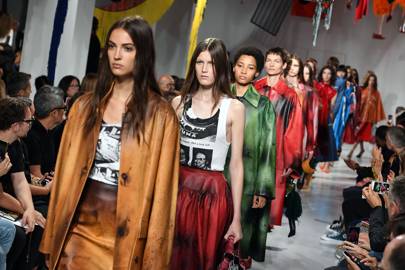 Not only do the pieces incorporate screen-printed Andy Warhol imagery, but broader inspiration riffed off "the dream factory of Hollywood and its depictions of both an American nightmare and the all-powerful American dream," said the brand, creating an heart-racing ode to "thriller heroines, heroes, and antiheroes." Simons has spliced together some of the silver screen's most iconic figures to form covetable cultural commentary at its best: a remixed medley of horror's greatest hits during a time when modern America appears more sinister than ever.
Here, in celebration, we present a (by no means exhaustive) list of some of cinema's most iconic horror heroines, those whose influence on Calvin Klein spring/summer 2018 is immutable.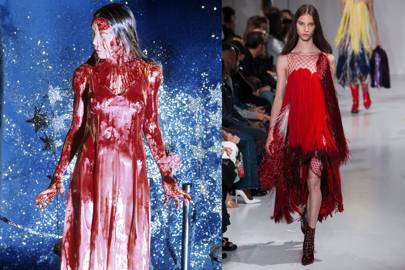 Sissy Spacek in Carrie
One of American horror's most renowned protagonists is, of course, Carrie: the poor prom queen drenched in blood during what ought be her proudest moment. The accompanying visual has earned cultish renown – but, when seen through Simons' lens, is transformed into something particularly beautiful. Not only were her delicate nightdresses reworked into ethereal eveningwear, but a raining shower of pig blood and its subsequently dripping streams become layers of red, shimmering fringing stitched upon fishnet. Carrie, you did not suffer in vain.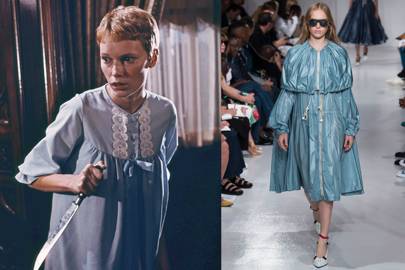 Mia Farrow in Rosemary's Baby
The baby blue babydoll that Mia Farrow wears as she attempts to murder her hideous progeny is cinematic wardrobe at its finest: simultaneously paying homage to all of the visual cues of Puritanical innocence and Balenciaga's Trapeze silhouette. Here, it is reprised as an almost sickeningly sweet anorak with functional fastenings – because who said fashion can't be practical?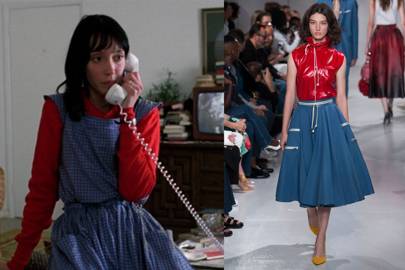 Shelley Duvall in The Shining
The enduring influence of The Shining appears in multiple incarnations at Calvin Klein: through the Eighties plaid suiting of Jack Nicholson's character, which appeared in the menswear looks, but also in Simons' version of Shelley Duvall's primary-coloured pinafore. As if to prove a point, he even gave his new version of Wendy Torrance sunshine yellow shoes in accordance with the original costume. A remarkable remix indeed.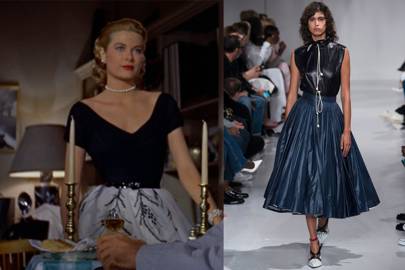 Grace Kelly in Rear Window
When Simons was creative director of Christian Dior, he proved particular prowess in updating the codes of the French couture house: by his hand, Dior's New Look became new once more. Such an affinity for Mid-century design was directly echoed in looks at Calvin Klein that paid tribute to Grace Kelly's wardrobe in Alfred Hitchcock's Rear Window but now rendered in new, synthetic fabrications (waterproof nylon, to be precise). Expansive, blooming skirts with cinched waists and a wipe-clean finish: what more could a woman want?