The CFDA's president, Steven Kolb, has quashed concerns that New York Fashion Week is facing difficulties following the departure of big-name brands including Rodarte, Proenza Schouler, Thom Browne and, most recently, Altuzarra for Paris.
"You have four brands that have decided to show in Paris for different reasons, at different times, and each one of them made that decision not because there was a problem with NYFW or something was wrong with NYFW, but there was an opportunity for them in Paris," Kolb toldFashionista. "If you were to ask any one of them, I think they would confirm that it's not a negative statement on New York, but really a chance for them to show their collections in a different market. And that's not unusual, right?"
Rather than see the situation as a negative, Kolb also struck an optimistic note, saying: "I think the holes - or the vacancies that are created by designers showing elsewhere - only open up opportunities for a new generation of talent to be nurtured and grown and supported."
And new opportunities are what fashion is about right now. It was, after all, the CFDA who in November 2015 employed Boston Consulting Group to analyse the traditional show structure and feed back on how the fashion weeks that take place in the Big Apple can work more effectively - and lucratively - for the designers showing. It was a move that precipitated the subsequent see-now, buy-now movement, with one of BCG's recommendations being for designers to fall "in-season", showing spring/summer collections at the start of the year and autumn/winter collections at the end of the year (the opposite of the current system). The Paris couture shows, which take place in January and June/July, provide the perfect opportunity for designers to do this - as Rodarte and Proenza Schouler have opted to explore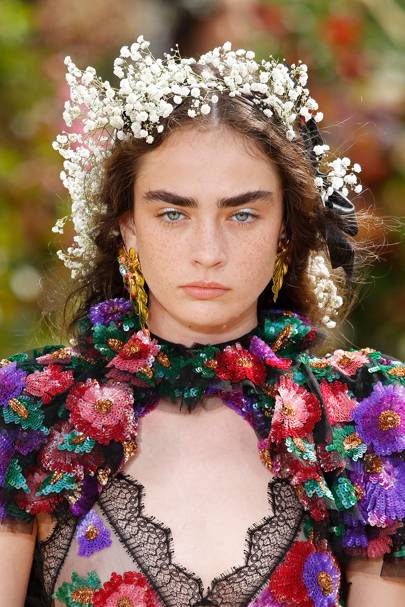 "I wanted to give designers the freedom of not having that pressure," CFDA chairman Diane von Furstenberg said as the investigation's findings were revealed. "There is a need to change, that's something for sure. Social media is really what is changing. It's not about revolution, it's about evolution."

An additional evolution for New York Fashion Week recently was the decision to cut the schedule short by one day (finishing Wednesday), giving showgoers time to make the transatlantic trip to London to see collections presented on the Friday. In the past, designers at LFW (which runs from Friday to Tuesday) are disappointed to find many buyers and editors are still on route during day one and have missed their show. Rather than being as a result of NYFW having less to show, however, Kolb attributed the move last week to the event becoming more selective.

"People will say, 'Anybody can show in New York!' And you know what, it's not true," he said. "Try to do a show in New York. You have to fill out an application, and you have to be approved. And people aren't all always approved. The calendar itself, the official calendar, is probably cut in half from before, when we didn't own the Fashion Calendar and that was intentional."

The event was recently bolstered by the news that Rihanna would be showing her Fenty collection on schedule, as well as the confirmation from Tom Ford that he will be returning to show his eponymous collection at the September showcase, after testing out - unsuccessfully - the see-now, buy-now model. It's also worth noting that some of the most closely watched designers - Laura Kim and Fernando Garcia at Monse and Oscar de la Renta, Raf Simons at Calvin Klein, Jonathan Saunders at DVF, Stuart Vevers at Coach and, of course, the inimitable Marc Jacobs - remain on board.