Graduate Fashion Week is nearly upon us once again, and with it a new wave of fashion talent from around the UK. Now in its 26th year, the event is one that has been gaining more and more momentum in recent years, and to mark 2017's graduates the organisers have selected eight aspiring designers to showcase their work in a stunning editorial shoot.
"The work being produced this year is of the highest calibre and the campaign is truly extraordinary, reflecting the talent on show at Graduate Fashion Week," said managing and creative director Martyn Roberts. He will be joined this year by illustrious fashion names, including Angela Missoni, Sarah Harris and Fabio Piras, to select the winners of the prestigious gold award (which Christopher Bailey first scooped 26 years ago) which will see the winning student receive £10,000 and their university be awarded a prize of £2,000.
For the second year in a row, there will be two graduates chosen to take part in the Tu at Sainsbury's scholarship initiative (there will be a winning womenswear and a menswear graduate) who will work with the design team - based on last week's news there has never been a better time to be there - to create a graduate collection for spring/summer 2018. They will also receive year-long mentorship with designers Henry Holland and Oliver Spencer to help them do it - something which seasoned LFW designer Holland knows first hand is vital to the future of the industry.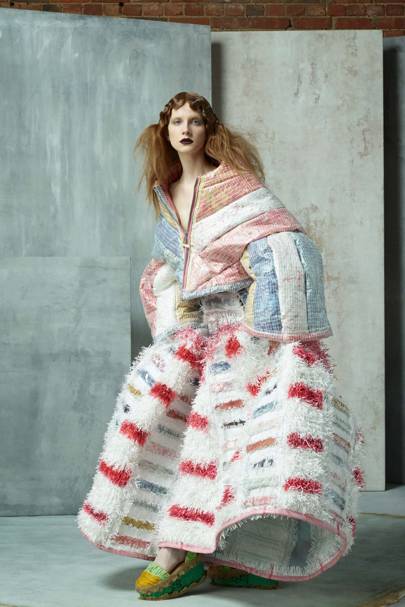 "London is one of the most supportive capitals in the world to the creative industries and I have always felt like there is an initiative available to me to help me further my business," he told us. "The challenge is the volume of people looking to get into the industry and providing enough support for everyone is just impossible. I think we do as best we can though. With my own company I encourage young designers to make themselves heard. I'm never closed off from my team and work alongside them every day – often inviting them to share their opinions and thoughts on what we should do and the best way we should do it. I think being open and receptive to every point of view is very important and my job is to select the best routes and ideas to take forward!"
In addition, Holly Fulton will be joined by Jackson Tucker Lynch of the Harris Tweed Authority to judge the Catwalk Textiles Award, which will see the winner take home £1,000 and their university £250.