Bottega Veneta has announced that it will combine its menswear and womenswear ready-to-wear shows moving forward. The amalgamation will happen as of February at the brand's Milan Fashion Week autumn/winter 2017 womenswear show - thereafter the brand will show at the womenswear fashion weeks in February and September.
The announcement comes as many brands look to diversify their seasonality and show offerings. Fellow Italian brand DSquared2 announced in September that it was also opting to show co-ed collections, but in its January and June menswear slots rather than its February and September womenswear slots, a strategy that Vetements revealed it would be adopting come January 2017. Other brands, such as Burberry, announced that they too would combine their menswear and womenswear collections, but in a see-now, buy-now capacity (a model being embraced by an increasing number of high-profile brands including Tom Ford, Tommy Hilfiger and Ralph Lauren).
By choosing to combine its collections in its womenswear slot, rather than a month earlier (a move that many have pointed out gives product longer on the shop floor), Bottega Veneta has indicated that it is focused on matters other than immediacy. Creative director Tomas Maier told us in September, as the brand celebrated its 50th anniversary, that the house "remains committed to a timing of presentation and launch that gives production the time necessary to create a sophisticated handcrafted collection that conveys a dream even before it hits the boutiques."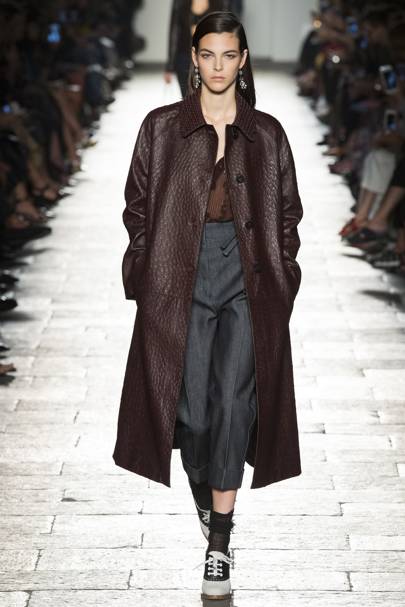 "This decision represents a natural evolution following the combined spring/summer 2017 fashion show, which was held in September 2016 at the Accademia di Belle Arti di Brera in Milan and presented both women's and men's collections in celebration of Tomas Maier's 15th anniversary as creative director of Bottega Veneta and the 50th anniversary of the house since its foundation in Vicenza, in the Veneto region of Italy," read a statement from the brand this morning. "The Bottega Veneta universe is built on both genders. As a consequence, showing both women and men together is an organic move that follows the evolution of Tomas Maier's creative vision. The house remains, in any case, committed to a presentation timing and production launch that allows the period necessary to create a sophisticated handcrafted collection that conveys a dream even before it hits the boutiques."
The fashion house's move to co-ed shows is its first big announcement since it appointed its new CEO, Claus-Dietrich Lahrs, in September. "Lahrs's outstanding experience and extensive knowledge of the luxury market will be crucial in the management of the exceptional maison that Bottega Veneta is," François-Henri Pinault - chairman and CEO of Kering, which owns the Italian fashion house - said at the time.