"I can´t think of any disasters," Grace Coddington insisted as she reflected on her many years of shooting for Vogue, the most recent examples of which fill the pages of her second fashion tome. "But, anyway, afterwards you forget the difficulties, it's a bit like childbirth - you forget the pain because you've got the lovely baby and that's what matters."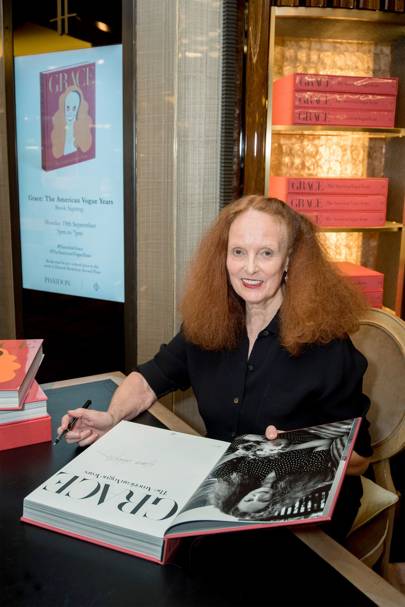 Coddington's newest volume, a biopic of her illustrious career at AmericanVogue from 2002 onwards, has a distinct focus on the people she worked with on those shoots: the photographers, her fellow fashion editors, and the models - from the lesser-known to the Supers.
She gives the impression of being somebody who is more comfortable shining the spotlight on others – unsurprising, perhaps, after all her years behind the camera - rather than having it directly focused on her. She lights up when discussing - with great relish - those she admires: Karen Elson ("A big favourite of mine! English, redheaded, gorgeous, and a friend"); her British Vogue counterpart, Lucinda Chambers, who interviewed her at this year's Vogue Festival ("I was having such fun with her, she's funny, you know she's really funny. She's a very good person to talk to"); and "a new little redheaded model that I love called Natalie Westling - I have great hopes for her.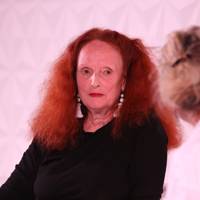 But we met - in the penthouse at Harrods ahead of her book signing - to talk about her, and she is best described as self-effacing. "I still haven't found it," was her response when asked if there has been an "I've made it" moment in her career. "One's always looking and you can always do better."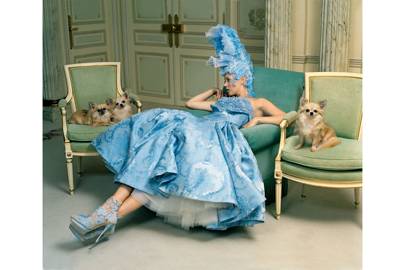 As a child, growing up in Anglesey in the Forties and stealing fashion magazines from her sister, did she have any inkling that one day she would become such an influential voice within the industry and an integral component of Vogue?
"Not at all. At that age I probably thought I'd live the rest of my life in North Wales and work in my mother's hotel or something," she smiled. "I changed that point of view when I was a teenager, but I wasn't someone who was always wondering what I'd do when I grew up."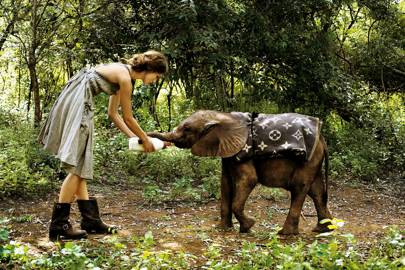 In the book she reveals that she wouldn't have considered turning her hand to professional photography because she "always thought it was a bit rude to take someone's photograph without asking". However, she admitted to us that since her appearance in The September Issue documentary, which thrust her from behind the scenes to global prominence, she has become used to the attention that comes with being a recognisable figure – her famous flaming head of hair (as vivid up close as pictures suggest) hardly lends itself to anonymity after all.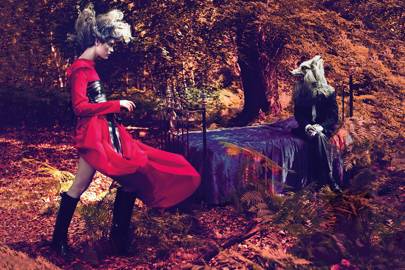 When it came to compiling the vast tome of visual and written memories, which picks up where her first archive left off, Coddington had a clear starting point.
"I keep every tear sheet from every shoot I've ever done, so I just went through all the shoots. I literally have every picture that's been published, not the ones that got dropped by the wayside," she said with a wry smile. "It's funny because somehow if you don't publish them then they don't have the same importance. People are always saying to me, 'You should do a book of all the things that got dropped.' At the time you're always moaning that the best ones get dropped, but there's something about a published picture that makes it stronger."
What does she think that something is? "I don't know," she mused. "Maybe it's the recognition."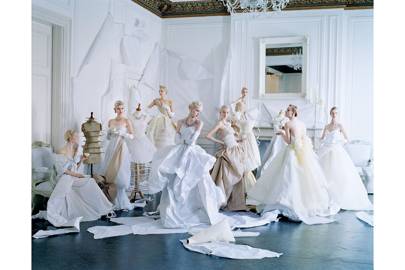 From such an impressive archive, is it possible to pick out one particularly memorable shoot?
"No, not really," she said. "Well, I always say Alice In Wonderland with Annie Leibovitz. But there's a lot that I love. Every year we did a story on the Met Gala and I pretty much always did them with Steven Meisel, I love those because it's really indulgent in terms of fashion. You can have fun with those shoots, they're not commercial in any way."
"There's also a really wacky one I did with Steven Klein, Carolyn Murphy and Karen Elson in a kind of greenhouse," she recalled. "We did it two days before a big storm we had called Sandy and we sort of knew it was coming, but we didn't know how bad it was going to be. It was kind of almost foretelling it in a way because the set was so battered, but it was unintentional, of course."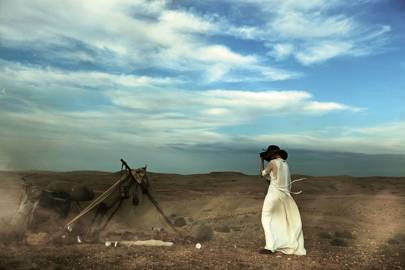 Coddington is honest that part of the satisfaction that comes with creating books is the control that she has over them, more so than when working for a magazine. However, "you are a bit beholden to the photographer," she sighed. "If he doesn't want to give it to you there's nothing much you can do. You can beg but they can hold it back. It is frustrating when it feels like something I helped to create and some of them don't..." she trailed off. "Some that will remain nameless! Some of them are just trying to be helpful but it's their point of view and the book is from my point of view, so I wish they'd just listen to me but it's their pictures and they're not just for me to throw around as I wish, they own them, too."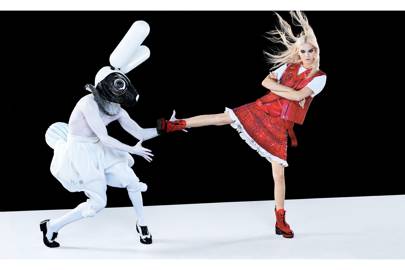 Reflecting on how her job has changed since she first started, she misses the big trips that were once possible – "nowadays, shoots are one day/two days maximum because of time and budgets so you can't go very far". She doesn't, however, miss the everyday routine of going to the office, following her stepping down in January as creative director at American Vogue (a post that she held for more than 30 years) to become the magazine's creative-director-at-large. The freedom, she said, has opened up a wealth of opportunities.
"Our days are so busy and we're running around all over the place. We have our own little office outside of Vogue and I'm dodging about all the time, visiting people and doing those fun things I haven't done in 30 years."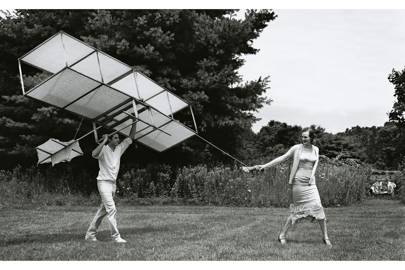 In the foreword, Saoirse Ronan writes that the famous fashion editor's inimitable defining feature is "the Essence of Grace... a much-coveted, precious sort of magic".
"Oh she's so wonderful," Coddington told us when reminded of this, laughing as she attempted to imitate the actress's Irish lilt. "I just think the way she wrote it was so charming. I felt she was kind of a surprising person to write an introduction, I like those stars that feel human and special, and she's very special to me. There's a few of them," she added, naming Carey Mulligan and Domhnall Gleeson as two examples, and delighting in identifying and shedding light on their idiosyncrasies.
That is, after all, what she has always done so well.